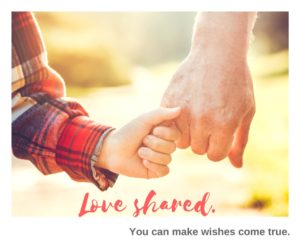 "I'm sorry.  There isn't anything more we can do."
The hardest―most painful words you will ever hear.
The doctors had left.  The room was silent.  Stunned.  Heartbroken.  Rick and his family struggled to comprehend these words.  (We have changed his name to protect his identity.)
Now diagnosed with a life limiting illness, and only his family in mind, Rick selflessly made the decision to seek hospice services.  He didn't want his last days to be a burden.  When Heart & Soul Hospice came alongside Rick, the team offered dignity, peace, and a promise that with whatever time God allowed, each day would be meaningful.
Love shared.
Out of his love for his family, Rick longed for one last special day with them.  While not a fan of baseball himself, his family loved the game.  With his desire in mind, Heart & Soul Hospice made Rick's wish come true.
Through the One More Time program, a special baseball watch party was held for him, his entire family and all of his friends to cheer on their favorite team―the St. Louis Cardinals.  Nothing was overlooked.  There was plenty of popcorn, hotdogs, and Rick's favorites―
Dr. Pepper and Mocha-flavored ice cream from Baskin Robbins.
Rick's smile said it all. 
It was a treasured afternoon with those who mattered most.
I don't need to tell you what hospice means.  You know.
But here's something you might not know:  Hospice can't make these wishes come true without your help.  The kind of hospice care that you find at Heart & Soul Hospice includes so many things that insurer reimbursements just won't pay for―like that special afternoon for Rick.
The One More Time program brings moments of true joy and meaning by making life-enhancing wishes come true for our patients and their families.  But they wouldn't happen without you.  Every donor and every volunteer plays a critical role in the lives of those we serve.
Matthew 10:8 says, "Freely you have received, freely give."
When you make your gift of $50, $75, $100 or more today to the One More Time program, you will be honoring the memory of what Heart & Soul Hospice did for someone you hold dear.  If you believe in hospice as much as we do, please follow your heart and bless another man or woman like Rick and their family.
To give now, visit: heartandsoulhospice.org/gifts/.