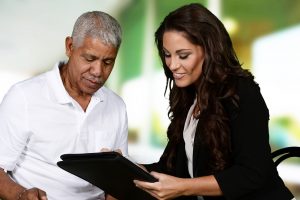 A licensed and mastered social worker provides coordination of care, community services and informs about government benefits. The hospice social worker also provides volunteer opportunities for support and companionship.
What do hospice social workers do?
Heart & Soul Hospice social workers are trained to assist patients and their caregivers during the end of life journey, and help in countless tangible and intangible ways. Here's a sampling of how they provide support:
Assist patients in exploring non-medical ways of relieving pain and anxiety.
Assist patients in developing an individualized plan of care.
Educate a patient's family so they may feel confident in their roles as caregivers.
Provide patients and their caregivers with advanced directives.
Allow patients and their families to discuss their concerns and fears openly and without judgment.
Identify community services that fit each individual situation, and assist with setting up services, such as meals on wheels, lifeline, and others.
Assist patients and caregivers in meeting their goals.
Help develop a plan if the patient is unable to be alone.
Keep family updated on a patient's current status.
Provide caregivers with reading materials to support their role, including information to help them feel prepared for the time of death.
Guide patients in a transition from one living environment to another, or assist with facility placement.
Help patients and caregivers obtain financial assistance or resources.
Watch for and assist with safety concerns in a patient's home.
Help fill gaps between what a patient needs and what is available to him or her.
Advocate for patients' needs.
Help patients and caregivers understand the role of hospice and the hospice team.
Assist caregivers in finding support to maximize their strengths.
Help caregivers develop a plan for the time of death.
Provide age appropriate education and interventions to minor children.
Provide activities for children to allow them to express their feelings.
Offer patients and caregivers all of the information related to their care.
If you have questions about the role of a hospice social worker, or about hospice care, contact us.