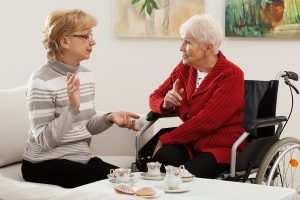 There are many opportunities to volunteer with Heart & Soul Hospice.
Volunteers provide important services to the people we serve. Whether it's providing companionship to a person in the final months and weeks of life, offering support to family members or caregivers, or helping with community outreach and fundraising, the contributions of volunteers are essential to the important work provided by Heart & Soul Hospice.
What our Volunteers Say
"My favorite part of being a hospice volunteer is helping others and getting to spend time with the patients," says Steve Francis, 2013 Volunteer of the Year
"My favorite part of volunteering is the people," says Jane Hardy, volunteer. "I enjoy caring for people. Now that my family is grown, I can turn my compassion to those in need of a smile, a story or a listening ear. That is Christ's greatest commandment—love one another."
"I love the patients that I get to see and the employees of Presbyterian Hospice that I get to work with," says Janice Quinton, volunteer.
Volunteer Opportunities
For information about how you can volunteer with Heart & Soul Hospice in Farmington, Missouri, call 573-756-7066. Opportunities are available in the hospice office, providing companionship to hospice patients and assisting in senior living communities where Heart & Soul provide services.