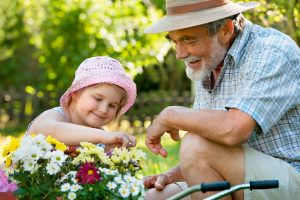 Although Heart & Soul Hospice focuses on the needs of terminally ill patients first and foremost, we also recognize the wider impact of serious illness on family and friends. When a loved one is diagnosed with a terminal condition many find coping difficult. We are committed to helping family and friends of our patients.
This assistance can take many different forms, depending on the needs of the patient and their caregivers.
Coming to terms with death is something we all have to do but it is never easy. Trained, professional chaplains can help both hospice patients and those close to them understand what is happening and be prepared for the end of life.
Because there is no right or wrong way to grieve, we compassionately walk alongside and listen to patients and members of their family and offer support to better enable them to cope with and grow from their individual grief experience. We provide each person the opportunity to explore their thoughts, emotions, behaviors and other responses to their loss.
We can also help children understand these very difficult concepts in an age-appropriate way, or help parents find ways to talk to their kids about the coming loss of a loved one.
Hospice Chaplains provide some of the following:
Care to patients, families and caregivers according to their desires and beliefs.
Assistance connecting people with clergy of their own faith group or other professionals.
Open, sensitive and non-judgmental presence accepting of different beliefs, cultures and values.
Assistance in making arrangements for or officiating at funeral or memorial services, cooperating with churched and non-churched families alike.
Regular visits giving patients and families a chance to get to know the Chaplain.
In-Home patients can expect to receive a call from a Hospice Chaplain within seven days of admission into the Hospice program.
From initial visit forward, our Chaplains continue to visit or just be available to call, talk, visit and offer support for up to 13 months after your loved one's death.
Grief support groups
Heart & Soul Hospice offers grief support groups for family members of hospice patients and former hospice patients. Support groups consist of 10 to 12 people, all of whom have experienced the death of a loved one.
By participating in a grief support group, you have an opportunity to talk openly about what that experience has been like with a group of people who are more likely to understand where you are coming from because they have "been there."
The Caring Hearts Caring Hands support group meets at the Wichita office at 3:30 p.m. on the second Monday of each month. The chaplain also offers one-on-one opportunities to speak privately about death and dying by appointment.
The Life After Loss support group meets at the Farmington office at 4:30 p.m. on the third Thursday of each month.
For information about joining a grief support group, contact our  Farmington office at 573-756-7066 or send us an email or our Wichita office at 316-652-6212 or send us an email.

Bereavement resources

The following websites are offered as places where you may discover resources that provide insight, encouragement and hope on your journey through grief.
Centering – North America's oldest and largest grief resource center
Griefshare – Christian resources and support opportunities.
When Families Grieve – a PBS resource for helping children cope with grief
Good Grief – The Shiva Foundation offers insights into "Good Grief"