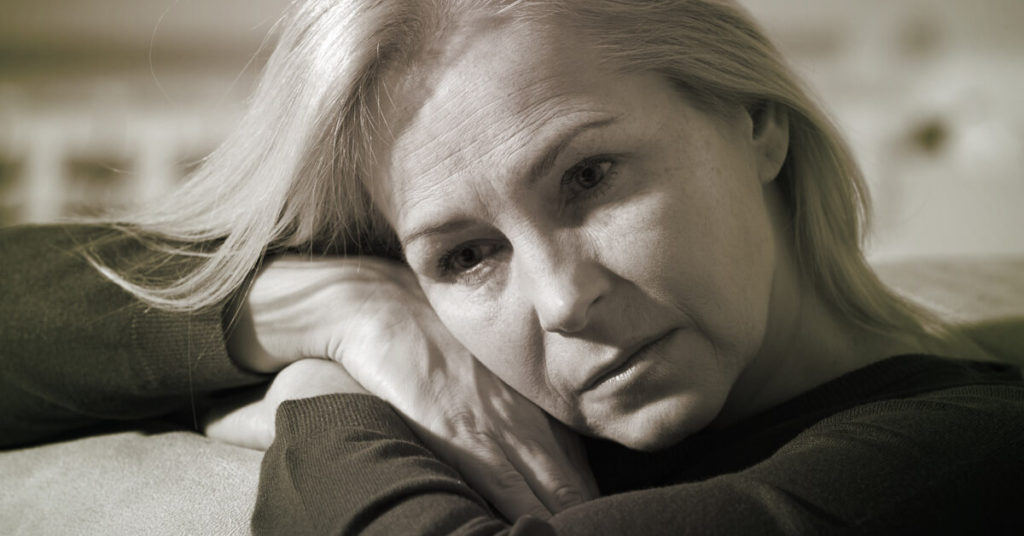 By Kerri Fivecoat-Campbell for Next Avenue
When my 57-year-old husband, Dale, suddenly died of a massive heart attack on Nov. 20, 2018, two days before Thanksgiving, to say I was in shock was an understatement. More than a month later, I realized just how much my mental capacity was affected by this life-changing trauma.
On Christmas Day, the next holiday without him, I was distraught and thought of a pin Dale had given me when we were still dating as teenagers. I wanted to hold on to the pin for comfort. I knew it was in an old jewelry box stored in our basement and I didn't think I'd have a problem finding it.
Two hours after my search began, I finally gave up on the jewelry box and retreated back to bed. I knew the box had to be there, I had just spotted it when Dale and I pulled out the Christmas décor two days before he died. I was confused as to why I could not find it. Two months later, I went in search of something else in the basement and there on a shelf, in plain view, sat the jewelry box. In it, my prized pin.
By that time, I knew I wasn't crazy — I was suffering from what my grief counselor and people in my online support group called "widow's fog." One woman commented that she had it so bad in those first months after her husband's death that her adult children insisted she be tested for dementia.
Griever's Fog
"I believe the term 'widow's fog' is a misnomer," says Jacob Brown, a marriage and family therapist in Corte Madera, Calif., who specializes in grief and issues surrounding older adults. "It should be called 'griever's fog' or 'trauma fog.' It is a very common condition that occurs in men, women and children after a significant loss or traumatic experience."
Carla Frankoviglia, a licensed professional counselor in Kansas City, Mo., has counseled others on griever's fog and experienced it herself when her 60-year-old husband, Steve, died of a massive stroke in 2016. "I stayed in a fog for months," says Frankoviglia. "It started when I got the call and on my way to the hospital. It is the body's and brain's way of coping with the trauma."
Frankoviglia says she remembers sitting outside her husband's hospital room with doctors asking her to sign papers. "I couldn't think clearly. I barely remember the ride to the hospital," she says.
Beth Bridges lost her 55-year-old husband, JD Blair, when his heart suddenly stopped in April last year. The 50-year-old Fresno, Calif., resident says she walked around in a fog for months afterward.
"I had a hard time finding things," she says. "I was looking for my husband's truck title and I looked everywhere except for the fireproof safe where we keep all our important papers — like vehicle titles. Months later, I found it while looking for something else. I would do things like lose my coffee mug and find it in the refrigerator or my bedroom, unable to remember setting it down there."
Components of Griever's Fog
Brown says when grieving patients complain of being in a fog, he explains that it's normal and has three primary components:
Emotional: You are focused on trying to understand what happened and processing your pain. The day-to-day activities of people around you seem pointless.
Neurological: A serious loss is a form of trauma. Brown cites studies involving brain scans that show a decrease in hippocampal activity following trauma, which can result in decreased memory functioning. Grievers commonly report losing items such as glasses or car keys, getting lost and difficulty in making decisions.
Physical: Fatigue. "The body's response to trauma is to divert energy to healing the trauma; that includes physical, emotional or neurological energy," says Brown. "As a result, grievers often feel a deep sense of fatigue and lethargy."
How to Move Forward
"The fog passes, but it takes time," says Brown. "One of the things you need to do is take the time to allow yourself to feel the grief. You cannot think yourself out of it," says Brown.
Brown says depending on the person, he has seen people start to work their way out of the fog in two to three months and be functioning pretty well after six months, but it can last longer.
You can help yourself move forward. Brown suggests finding what works for you.
For example, you might want to read books on grief and resilience or recovering from trauma. Or, "Connect with a support group through hospice, your church [or other house of worship] or online," Brown says. "Connecting with people who are supportive of you and understand your situation, and (you) being helpful to those same people in your group, can help bring you out."
Like me, Frankoviglia is self-employed and was able to take a couple months to feel the grief and start to work her way out of it. For those who must return to work after a three-to-five-day bereavement leave, she says, don't expect too much of yourself, and ask for help from your boss and co-workers. "Your brain still hasn't recovered, even after two months," Frankoviglia says.
She used a combination of mindfulness, meditation and movement to work her way out of the fog. "The brain and body are connected, so walking, running, listening to music, prayer and meditation all helped," says Frankoviglia. "Try to just be present in the moment and look at the flowers blooming and trees and not think about the past or the future."
A New Path
Frankoviglia says it's important to acknowledge that you are now on a different life path: "You have to realize things will never be the same. You have to figure out how to bring joy and happiness to your life and walk toward the sun."
Brown agrees. "One thing that holds people back from coming out of the fog is they keep waiting for things to go back to the way they used to be," he says. "You have to realize that you're different, and you must understand that to move forward."
---
Kerri Fivecoat-Campbell is a freelance writer whose work has appeared on Forbes.com, AOL.com, Mainstreet.com, Creditcards.com, Bankrate.com and elsewhere.