Heart & Soul Hospice made a One More Time wish come true for Heart & Soul patient Yvette Downey.
Downey is turning 96 on June 8. Her husband, Darby, turned 100 on May 30 and they celebrated their 76th wedding anniversary May 10. This amazing couple still lives in their own home.
To celebrate these milestones, their children hosted a celebration for family and friends. Prior to the celebration, Heart & Soul Hospice provided Downey with an afternoon of pampering. Sasha Dortch with Xtremes Salon styled Downey's hair and did her nails.
"The party turned out fabulous!" said the Downeys' daughter Jeannie Lewis. "Approximately 300 people attended. What an amazing Mom and Dad we have."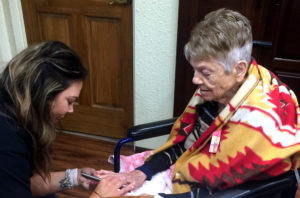 The "One More Time" program brings moments of joy and meaning to those nearing the end of life by making life-enhancing wishes come true. Each moment is unique and personal by creating lasting memories for the patient and families of those served by Heart & Soul Hospice.
"This is the perfect example of making the most out of the time we have left," said Rodney Quinton, Heart & Soul Hospice administrator. "Darby and Yvette are a testament of commitment to one another. It was an honor for us to be part of their celebration and to help Yvette look her best."
Heart & Soul Hospice is a not-for-profit, Medicare-certified hospice agency serving Iron, Madison, St. Francois, St. Genevieve and Washington counties.