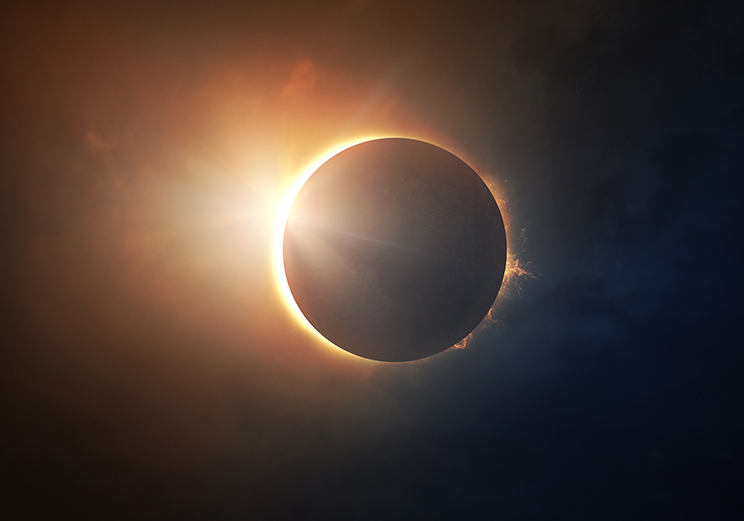 By Greg Schmidt, Hospice chaplain
I love the picture my oldest son sent me of his three kids grinning from ear to ear while gazing up into the sky during the recent eclipse.  Each had a smile on their face, the youngest seemingly more giddy than the oldest about viewing the once-in-a-lifetime alignment of the two spheres.  It may not have been something the entire world witnessed, but on my little slice of the planet, it was truly awesome!
For many, the total eclipse was most definitely an event worth waiting for!  The anticipation was a blend of anxiousness and curiosity.  How dark would it get?  Would those looking forward to the event be properly prepared to experience it?  What about my life might change because of the experience?  For others, their response was "Who cares"?  It made absolutely no difference to them.  It did not change a thing.
Shortly after the eclipse, I could not help but think of the similarity between staring up into the sky to watch the moon block out the sun … and looking heavenward for Jesus' return.  Both are events worth waiting for.  Both are filled with anxiety and curiosity.  Both have millions of people anticipating the event.
And guess what.  Just as with the eclipse, there are others who do not care.  At all.  It will make no difference to them.  They spend no time waiting.  Anticipate nothing.
Call me a daydreamer, but I believe that one day all of life – everything and everyone ever created – will be changed "… in a moment, in the twinkling of an eye, at the last trumpet …" (1 Corinthians 15:52)  Why?  Because it is not an event that will take 12 minutes or less, and then in time fade from the collective memory of most people.  I believe the Second Coming of Christ is an event that will forever change the identity and destiny of the 6+ billion people on this planet.  God will not be mocked.  Life WILL change.
One of things I most enjoy about my role as a Chaplain with Heart & Soul Hospice (Wichita) is being given the opportunity to walk with individuals and families as they process what inevitable "eclipse moments" are doing to challenge or change their lives.  Regardless of the change coming as the result of cancer, disease, dementia or simply the by-product of aging, life WILL change.  Whether the change occurs in the twinkling of an eye, bit by bit, or an extended period of time, life gets blocked out by an uninvited and unwanted challenge.  And the dark of death eclipses the light of life.  Thankfully, in time, life begins to struggle and strain and fight to eradicate the darkness.  And at some point, light once again conquers the darkness.  One thing is for sure, with each pain- or joy-filled step of the way, life is changed … forever.  For both the patient and the family.
I want every "eclipse" moment anyone experiences to be purpose-filled.  At Heart & Soul Hospice, we make it a practice every day to look up … in awe … with hope and promise.  Regardless of your Faith perspective, join us in watching love and compassion eclipse pain and death!