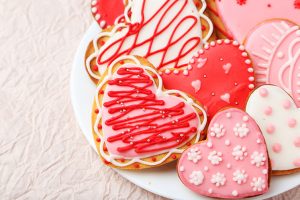 Some of my most cherished memories of the days I spent as a Youth Pastor back in the 80s are those related to making Valentine's cakes and cookies.  The baking, pouring frosting, and personalized decorating solicited grins, giggles, laughter, and the peace of heart and mind that comes in working and serving together to put a smile on someone's face.  But from a fundraising perspective, the truth of the matter is that as much fun as we had creating them, the goal of the fundraiser was never realized until someone purchased and devoured those sweet treats!
King David says in Psalm 34:8 "Taste and see that the Lord is good; blessed is the one who takes refuge in Him."  David had experienced the goodness – the blessing – of God in his own life, and now wanted others to take a chance … to try it … and discover for themselves the incredible benefit of knowing God personally!  His point is that if anyone is suffering with physical or emotional diseases … if someone has broken relationships with their spouse or children or grandchildren or the next door neighbor … if someone has looked for life and love in all the wrong places … that if those people would just give God a chance … if they would just run into His arms to find the shelter and peace they needed … they would be blown away by the way God cares for, nurtures, feeds, builds up, and supplies for their every need!  With God there is only one thing in mind: to bring peace, joy, and wholeness to everyone and everything that reaches out to touch Him or that He reaches out to touch!
The spirit and essence of Valentine's Day is to freely give away a simple – hand-crafted and home-made? – gift that expresses one's love and devotion either romantically or in the spirit of friendship.  "From Your Valentine" is a reminder that someone loves and cares for you and wishes the very best for your life going forward!  But you will never really know how precious another person's love and care is for you until you accept it … embrace it … and ultimately devour it!  Why?  Because only then will the gift enrich and empower and make whole your life!
Celebrating life and love is the definition of what Heart & Soul Hospice does.  Every day.  In every life.  As we devour the sweetness of God, we're humbly asking Him to inspire, challenge, teach, embolden, and release a love that takes hold of, equips, and strengthens the lives of our patients and their families.  We're tasting and seeing and finding refuge in the One who brings peace to this life and the life eternal that is yet to come.  Join us on the journey!